Click on the Google map for directions to the Memorial from any location.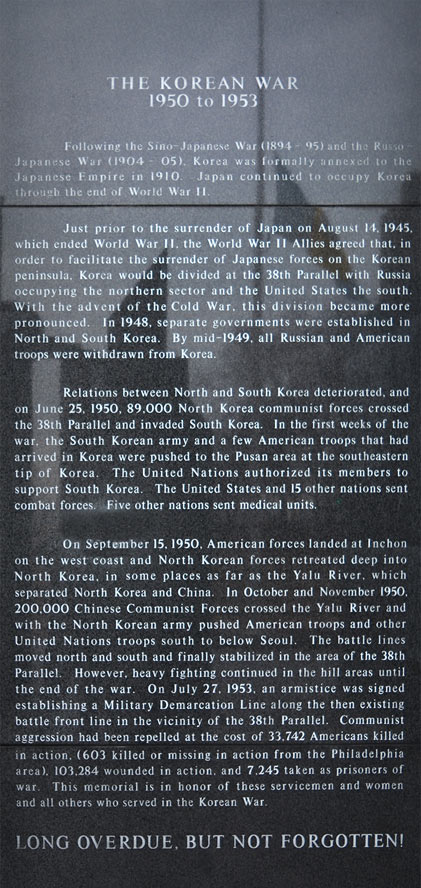 Click on photo for a high res printable image
National Korean War Veterans


A proclamation by George W. Bush, President of the United States on Armistice Day, 2001
The sounds of war thundered as a furious struggle took place 51 years ago in a country unknown to many Americans. The battleground that was Korea in the years 1950 to 1953 tested the resolve, courage, and commitment of an America barely 5 years beyond the tremendous sacrifices of World War II. Undaunted, America again marshaled her forces to defend a population facing tyranny and aggression.
Freedom for the Republic of Korea was purchased with deep sacrifice and with honor. In 38 months of intense fighting 33,665 Americans gave their lives in battle. Our Nation's highest military award, the Medal of Honor, was awarded to 131 members of the U.S. Armed Forces, more than 90 of them posthumously. Yet the challenge of Korea was not just a formidable adversary, but also a harsh and forbidding climate. The 1.8 million service men and women who served there suffered bitter winters that would claim casualties approaching those inflicted by guns, shrapnel, and bayonets. When the Military Armistice Agreement, effective 48 years ago, silenced the guns on the Korean peninsula, it marked the end of the world's first determined stand against Communist aggression. It signaled the beginning of the Cold War, and foreshadowed the eventual dismantling of global Communism.
Today, the liberties defended there half a century ago are the inheritance of 47 million citizens of a democratic, prosperous, and progressive Republic of Korea. The young Americans who fought and died there kept faith with a just cause, and in so doing, kept faith with the principles and ideals on which our Nation was founded. They immeasurably blessed the Republic of Korea and brought great honor to our Nation as a defender of freedom. Because of these truths, we recognize the Korean War for what it was and is – not a "forgotten war," but a remembered victory.
NOW, THEREFORE, I, GEORGE W. BUSH, President of the United States of America, do hereby proclaim July 27, 2001, as National Korean War Veterans Armistice Day. I call upon all Americans to observe this day with appropriate ceremonies and activities that honor and give thanks to our distinguished Korean War Veterans.
Printable photos of the scenes from the Korean Memorial
Click on each photo from the scenes at right to access a high res photo.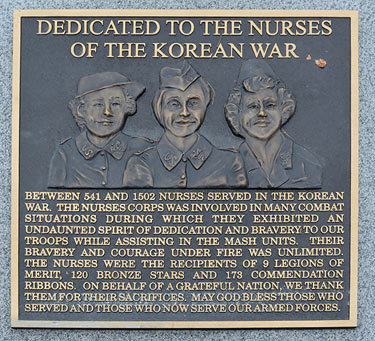 Click on photo for a high res printable image