Irish Memorial
The Irish Memorial is located on Chestnut Street and Front Street in a beautiful park created over I-95 and the Delaware Expressway. The park also is home to the Scottish Memorial, and various commemorative and informational kisosks.
Click here for photos of the Irish Memorial as well as printable enlargements of segments of this grand and evocative sculpture.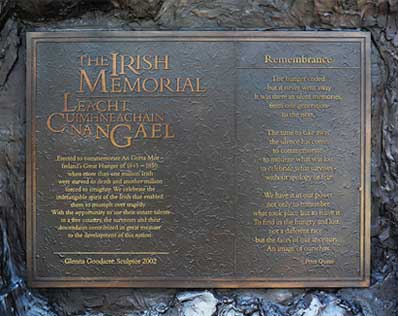 Click on photo for a printable photo of Plaque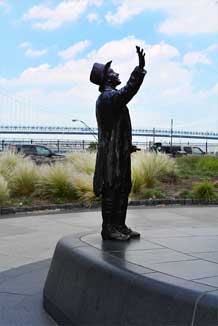 Click on photo for a printable photo of Statue
Click on the Google map for directions to the Memorial from any location.

Leacht Cuimhneachain Nan Gael
The Irish Memorial was erected to commemorate Ireland's Great Hunger of 1845-1850 when more than one million Irish were starved to death and another million forced to emigrate. We celebrate the indefatigable spirit of the Irish that enabled them to triumph over tragedy. With the opportunity to use their innate talents in a free country, the survivors and their descendents contribited in great measure to the development of this nation.


Glenna Goodacre, Sculptor 2002
The hunger ended
but it never went away
It was there in the silent memories,
from one generation
to the next, The time to take away
the silence has come,
to commemorate,
to mourn what was lost
to celebrate what survives –
without apology or fear.
We have it in our power
not only to remember
what took place but to relive it…
To find in the hungry and lost,
not a different race…
but the faces of our ancestors…
An image of ourselves…
– Peter Quinn